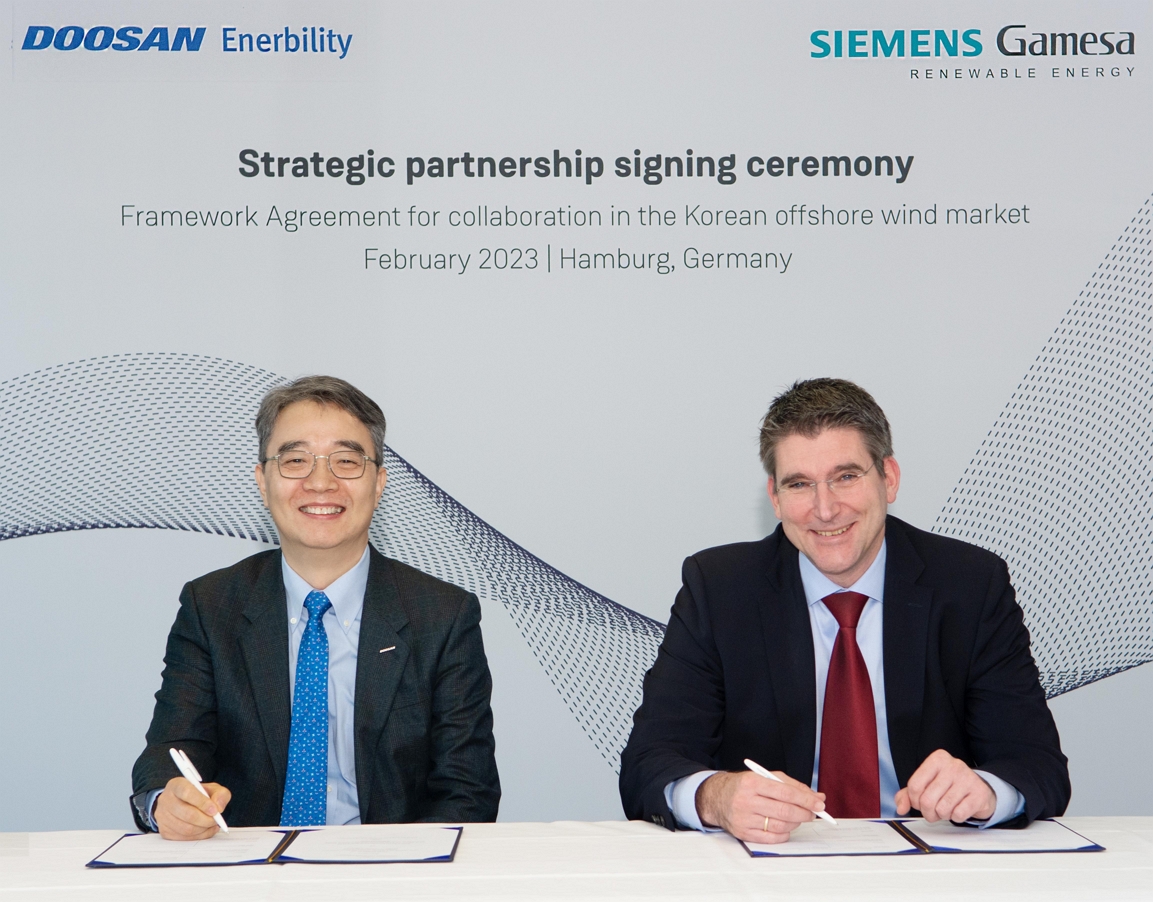 Doosan Enerbility is joining hands with Siemens Gamesa Renewable Energy to strengthen the competitiveness of its offshore wind power business.
On February 7th, Doosan Enerbility announced that it had signed a framework agreement on pursuing strategic collaboration with Siemens Gamesa, the world's leading manufacturer of offshore wind turbines. In attendance at the signing ceremony, which was held in Hamburg, Germany, were key figures from both parties, including Hongook Park, CEO of Doosan Enerbility's Power Services Business Group, and Marc Becker, CEO of Siemens Gamesa Offshore Business Unit.
With the signing of this framework agreement, the two parties agreed to cooperate on the following areas. ▲ Engage in wide-ranging technology cooperation, such as the assembly of nacelles, construction and operation & maintenance of ultra-large offshore wind turbines. ▲Discover and foster the growth of local parts suppliers to promote domestic offshore wind power ecosystem. ▲ Knowledge exchange and training related for offshore wind turbine technology
"Both of us being companies that hold our very own offshore wind turbine models and solid track record, we aim to cooperate on broadening our participation in the Korean offshore wind power market and actively pursue promotion of the domestic offshore wind power ecosystem," Hongook Park, CEO of Doosan Enerbility's Power Services Business Group. He added, "Through this partnership, Doosan looks forward to boosting its competitiveness across the overall offshore wind power sector through measures, such as the upgrading of existing products and diversification of models."
Marc Becker, CEO of Siemens Gamesa's offshore business, said "We are delighted to enter into this framework agreement with Doosan Enerbility. We are eager to bring our market-leading offshore skills including our unique offshore Direct Drive nacelle technology to Korea. We will also greatly benefit from Doosan's deep understanding of the Korean market to accelerate the country's energy transition. In doing so, the partnership intends to promote local job growth and inward investment while delivering clean, green energy."
Siemens Gamesa, a subsidiary of the Germany-based Siemens Energy, currently holds the number one position in the global offshore wind power market, having installed 21GW of offshore wind power capacity worldwide. The company owns an extensive product portfolio, ranging from the 6MW direct drive wind turbine to the 14MW wind turbine model. Doosan Enerbility first entered the wind power business in 2005 and currently holds the largest track record for offshore wind power in Korea. Last year, Doosan succeeded in obtaining international certification for its 8MW offshore wind turbine model.