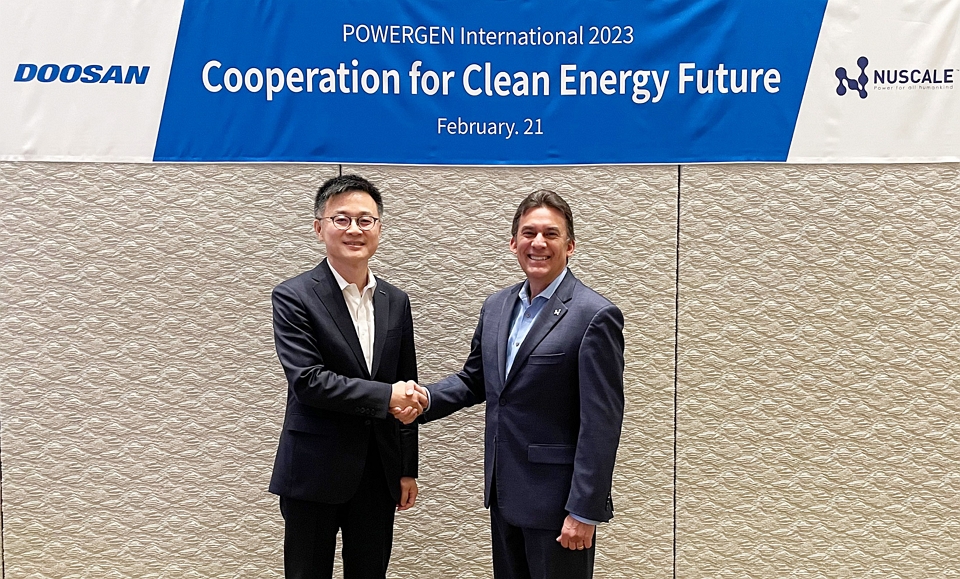 Doosan Enerbility announced on February 22nd that it is attending the "POWERGEN International 2023" held in Orlando, USA to promote its technological prowess in the fields of nuclear power and gas turbines.
POWERGEN International is the world's largest energy and power generation event, one that is held annually in the States. This year's conference is scheduled to be held from February 21st to 23rd (local time) at the Orange County Convention Center in Orlando, Florida. At this year's exhibition, the level of interest shown in nuclear power is said to have grown considerably from previous years. The co-founder and Chief Technology Officer of NuScale Power was invited as one of the keynote speakers and eight nuclear power-related conferences are scheduled to take place at the event.
On the first day of the conference, Doosan Enerbility held the Doosan Decarbonization Conference, at which Doosan's technical expertise was showcased to both the local and international customers and business stakeholders. During the morning session, the status review and roadmap for gas turbine development, as well as the current status of hydrogen co-fired and 100% hydrogen-fueled gas turbine development were covered. In the afternoon session, special focus was placed on promoting the nuclear power business in an effort to support the exports of Korean-made nuclear power plants to global markets. As such, topics such as the company's nuclear plant component manufacturing capabilities and track record for nuclear power products and services in both the domestic and global markets, and the current status and strengths held as a SMR manufacturer were covered.
On the same day, Doosan Enerbility's Chief Marketing Officer Jungkwan Kim met with José N. Reyes, NuScale Power Co-Founder and Chief Technology Officer, to hold discussions about the global SMR market trends and NuScale's SMR technology and to explore cooperation opportunities.
"We could see even from this year's POWERGEN conference the growing interest shown in CO2-reducing power generation technology, such as nuclear power and gas turbines," said Jungkwan Kim, Doosan Enerbility's CMO. He added, "By continuously engaging in marketing efforts that are tailored to our local and global customers' needs, we plan to actively promote Doosan Enerbility's wide-ranging energy technologies and project delivery expertise to help increase our future order intake."